Easy Ways to Optimize Your Existing Links
Every other article on link building that we meet on the Internet tells us why links are important, teaches us how to obtain inbound links describing a variety of link building methods. I totally agree that we need links and I'm always open to any new legal link building tactics. But I believe that in the pursuit of more and more new links, we often forget about backlinks we've already got some time ago. Do they still exist? Do they lead to the correct page on our site? Do they have the right anchor text? These are the questions we should ask ourselves.
So, let's start by examining a couple of simple but necessary tactics that can help you manage and optimize your existing links. Here they are:
Optimize your anchor text. As a marketer, you know that the link anchor text is one of the important, if not the primary, factor that drives traffic to your website. It's by the anchor text that people find your website in search engines. Thus, your primary task is to ensure that your existing links have the right anchor text, i.e. your most loved keywords. A trite "Click here" or "Read more" is not the anchor text for your link you want. So, if you maintain a list of websites linking to you, visit them and review your links. If you find the anchor test you don't like, contact the webmaster of the site and ask them to change "Click here" to an anchor text that contains your relevant keywords.
Monitor your "Not Found 404" errors. Using Google Webmaster Tools you can discover who is linking to non-existing pages on your website as well as misspelled URLs. Go to Google Webmaster Tools -> Diagnostics – > Web Crawl and look at the "Not Found" report. There is the "Linked From" column. For every error in the report the "Linked From" column lists the number of pages that link to a specific "Not found" URL. You can click on the number of pages and in the separate dialog box you will see a list of pages that link to the specific invalid page on your website. So, if your "Not Found" report reveals a number of invalid links, you can drop a quick email to the site's webmaster asking them to repair that broken link. If the webmaster didn't correct the link, you can use a permanent 301 redirect method to redirect the link to the right page.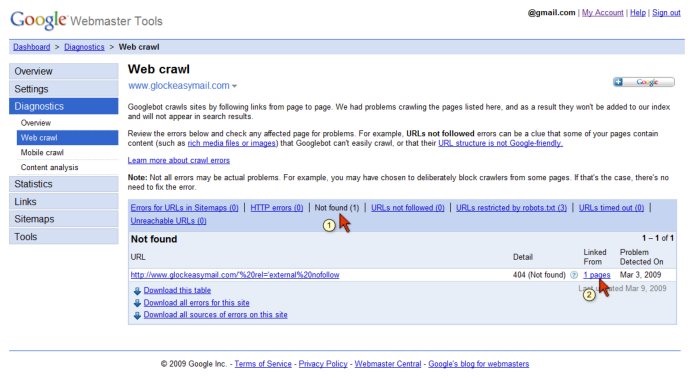 Monitor links to non-indexed pages of your website. If you prevent search engine bots from indexing certain pages on your website via robots.txt or meta-noindex, make sure anyone does not link to those pages. If you discover such links, contact the webmasters of those sites and kindly ask them to link to a different page on your website.
Well, using these 3 link optimization tactics you can ensure your existing backlinks are valid and up-to-date.
And now let's return to link building. To continue, I'd like to share with you 4 link building tips that, on my opinion, are worth to be covered. Probably you'll find something new for you that you would want to put into practice. Here they are:
Go to a search engine and type your company name or your personal name into the search box. Click Search. Yes, you will search for web sites that mention your company name or your name. Look at the environment where your name is mentioned and whether there is a link to your site. If there is no link and the content is appropriate (one of your article published on someone else's site, or product review or some other relevant content), you can contact the site's webmaster and ask them if they are willing to add a link to your website since they mention your name.
Create useful tools and give them for free. A great example is our double opt-in manager plugin for WordPress blogs. The plugin is free. Anyone can download it and install onto their blog. The plugin places a signup form on the blog. You can see an example of the signup form on this page.
Offer a win-win deal to your visitors. You can ask your website visitors to write a review of your product or service including links to your site and publish the review on their website. In return you'll give them a discount for your product or service, a free bonus or any other benefit you can provide.See an example how it can be done at this page.
Create "Link to us" page on your site. It's a good idea to have a web page where you tell people how they can link to you: which URLs, anchor text, logo they can use. This may encourage people to link to your site and will most likely help you avoid invalid link.
This is only a tiny fraction of creative link building tactics you can use. I'm sure you can come up with much more that will be quite appropriate for your company and market niche.
To conclude, I would like you to note that there is no advanced link building tactic. For me, "advanced" means a fast and reliable thing that brings immediate results. But it's not the case of link building. You can't spend a few hours, build a hundred of links and quite hoping they will work for you for years. Building links is like building a brand. It's a gradual and long-term process. And it requires time. Much time.
In the meantime I'd love to hear your comments on link building and optimization. What did you try? What worked best? What failed? Leave me a comment below and let's discuss.
Get Email Updates Right in Your Inbox
We'll notify you about new articles on our blog.
Tags: anchor text, inbound links, optimize links, search engines, webmaster tools