Fast Blog Finder Gold Edition Beats Free Version
by a Whopping
500% Increase in Do-Follow Back-Links

!
See the amazing results of our TEST below…

I sometimes hear people saying on the forums how easy it is to find DoFollow blogs manually by using Google blog search. But what they don't know yet is how many hours, programs like Fast Blog Finder can save them, and more importantly – enable them to get direct traffic and do-follow back links to ANY site of your choice. How much time is one spending on average to find, let's say, a hundred of DoFollow blogs?

Stop the guess work! I did a recent test to demonstrate how Fast Blog Finder can make your life easier, save you countless hours of time, effort and energy so you can decide for yourself if this is the right "weapon" in your marketing arsenal, or not.

The keyword phrase I used for my comparative test is "make money online".
How many blogs does the

Free

version discover for you?
Although the Free version of Fast Blog Finder is very limited in features, it is worth giving a try; just experience its power before you decide for the GOLD version which unlocks the full benefits of blog commenting and back-link generation.
Because we want ONLY our best and most responsive clients use this tool we limited the Free version as following:
– Returns only 50 blogs for each search (mostly NoFollow);
– "Load Blog List" option disabled;
– Domain blacklist disabled;
– "Skip duplicate posts between different search queries" option disabled;
– "Skip duplicate domains" option disabled.
However, per our test, I got these results for the "make money online" key term:
DoFollow – 13
NoFollow – 24
MIXED – 6
Unknown – 6
HTTP error – 1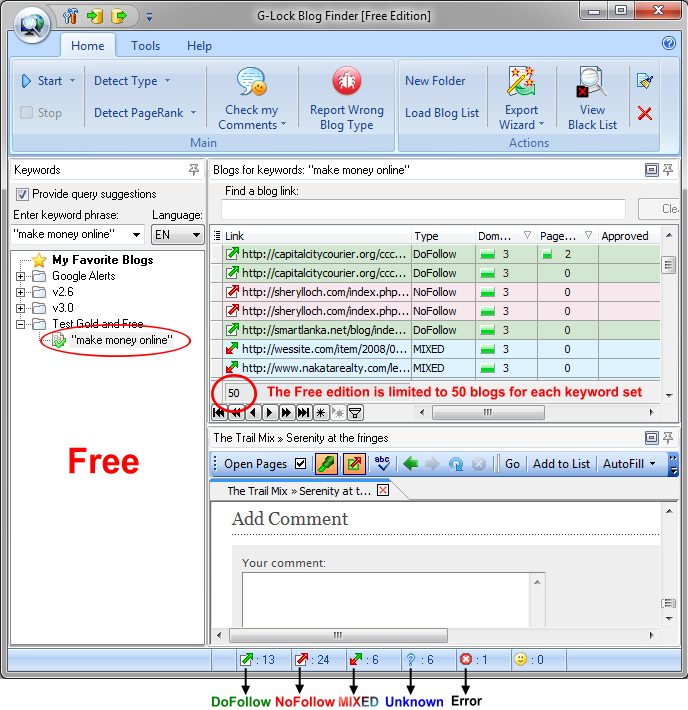 So, in the Free version there are 13 DoFollow blogs to leave comments on in the first place. And I can sort 24 NoFollow blogs by the Domain PR and Page PR and comment on the blogs with higher domain and page PR hoping to get a little more human traffic to my website.
Hint: To sort the blogs by more than one column, hold down Shift on the keyboard and click on the column heading.  
In addition, I have 6 blogs of the MIXED type. There is a mix of DoFollow and NoFollow links in comments on the blog. You can find the very best blogs for commenting among MIXED blogs. Some blogs of the MIXED type are set so that the commentator gets a DoFollow link after minimum 5 or 10 approved comments. So, only a few get the DoFollow link what makes those links extra valuable.
Hint: Did you notice the drop down menu in the Start button that allows you choose Top 10 Results, Top 20 Results or Top 50 Results? Using this menu you can limit the program to process only 10, 20 or 50 links from each search request in order to get the most relevant blogs for your keywords. Fast Blog Finder sends several requests to search engines for one keyword set and by default scans 100 links per page returned by the search engine. So, if you want to speed up the search process and get the most relevant results, choose Top 10, 20 or 50 results. For example, if you select Top 10 Results and run a search, you'll get approximately 50-60 blogs for your keywords.
How many blogs does the

Gold

version retrieve for you?
Are you ready to see what the Gold edition can do for us? This version is guaranteed to save you countless hours of your time, effort and energy. Forget about manual blog research. Let our tool do its magic in the background while you work on your business, or spend time with your family.
It is like an instant jump in the pros league!
The Gold edition of Fast Blog Finder has no limitations on the quantity of blogs it returns. It will show you all the blogs that the search engine returns for your keywords.
Plus, you can indicate yourself the quantity of pages to fetch from the search engine. I used the default parameter – 3 pages.
Well, for my test keywords "make money online" keyword test the Gold version returned 2440 blogs where:
DoFollow – 674
NoFollow – 1375
MIXED – 275
Unknown – 98
HTTP error  – 18
Here is the visual proof.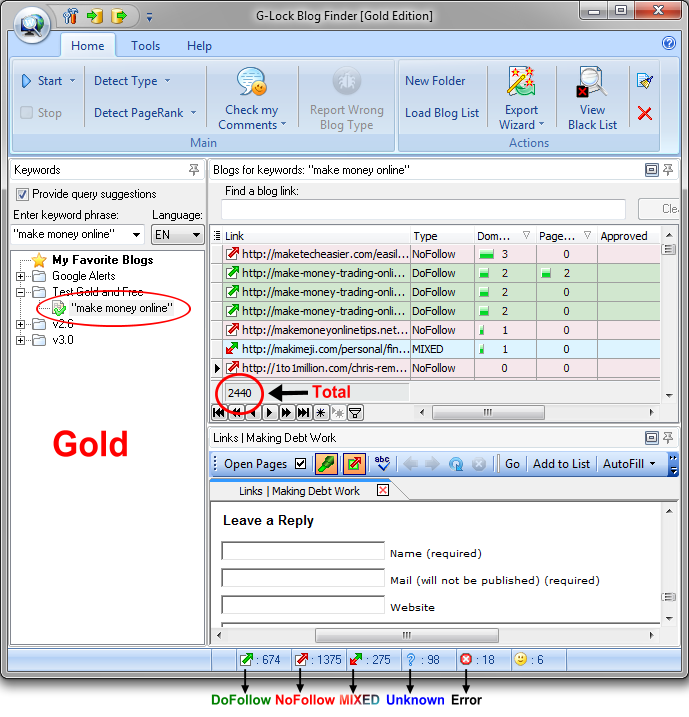 Can you see the difference now? I have 674 DoFollow blogs in the Gold edition against 13 DoFollow blogs in the Free version. It is like I'm getting 50x times more blogs, in an instant!
Plus, I have 1375 NoFollow blogs in the Gold edition. Those which have higher PR are worth to comment on too. Imagine the possibilities!
And 275 MIXED blogs in the Gold edition against 6 MIXED blogs returned by the Free edition is a marked difference.
As to Unknown blogs, if the blog doesn't have any comments on the latest 10 posts, Fast Blog Finder classifies it as Unknown. In most cases these are abandoned, not supported anymore or simply crappy blogs. But sometimes you'll get lucky and find a few gems among Unknown blogs. So, you'll see whether the blog is DoFollow or NoFollow only after your comment is posted on the blog.
But that's not all! Here comes the best part:
Fast Blog Finder Gold edition provides you with a couple of additional features that are disabled in the Free version…when you upgrade to GOLD you'll be instantly able to… 
Exclude duplicate posts between different searches. If you run multiples searches for similar keywords and do not want the same posts to show in multiple lists, just go to the program settings and check the "Skip duplicate posts between different search queries" option. This way you'll get unique results for each search query, without manual work!
Add domains to the blacklist to exclude them from the search results. If you found any crappy blogs, you can add the domains to the blacklist and Fast Blog Finder will not show those blogs anymore. The domains are saved to a text file. You can open the text file (blacklist) and edit/delete the domains. It is a fun way to "manipulate" Google results!
And what's even more important is that you can import your own list of blogs using Fast Blog Finder Gold edition, determine the blog type and post comments on those blogs.
We found through extensive research and testing that none of our competitors offer the same highly sought-after benefits and features as Fast Blog Find GOLD version does!
Still not convinced? Read the users' comments below the post. Or, jump in the pros league instantly: