G-Lock Blog Finder Key Features and Benefits
G-Lock Blog Finder is a spam-free, 100 % white hat, search engine friendly blog commenting software for SEO firms and individuals looking to get massive direct traffic and 'dofollow' back-end links to their sites.
What makes G-Lock Blog Finder unique and powerful is the combination of its features, some which you will not find elsewhere:
It searches the Internet for blogs that accept comments using any keywords
When you start typing your keywords, the program automatically provides you with query suggestions to stop the guesswork.  Plus, you can select the language you want to get blogs on, the region blogs should come from, and the time period if you want  to get a list of blogs that have been recently indexed by search engine.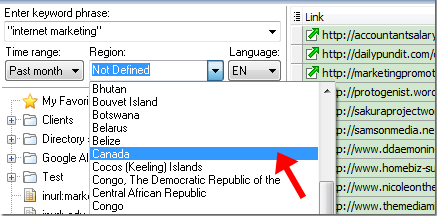 ---
It can return only the most relevant blogs for your keywords
You can search blogs among the top 10, 20 or 50 links for each search request. G-Lock Blog Finder sends several requests with different footprints for your keywords. For example, if you select Top 10, the program will scan the top 10 links returned for each request and you will get approximately 50-60 most relevant blogs in the result.
By default the program will scan 100 links per each request.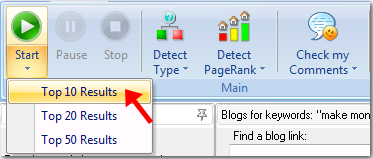 ---
You can use custom footprints to search for blogs or ANY sites
With this little option you search potential is almost unlimited. You are not limited to only blogs anymore! You can search for ANY sites on ANY platform and use any backlinking opportunity that you may think of. Here you can read more about how to use custom footprints in G-Lock Blog Finder.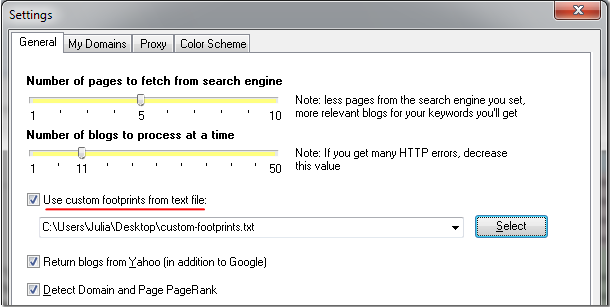 Note: When you use custom footprints, G-Lock Blog Finder does not determine the site type and PageRank automatically. All sites will have the Unknown type and PR 0. When the search is complete, determine the types and PR yourself by using the appropriate options on the program toolbar.
---
It determines the domain PageRank and page PageRank
If you want to speed up the search process, then you can disable PageRank detection during the search. Or, you can enable the PageRank detection for DoFollow blogs only. After the search is complete, you can select the blogs you like more and detect PageRank for selected blogs only. Or, you can run G-Lock Blog Finder to detect PageRank for all blogs.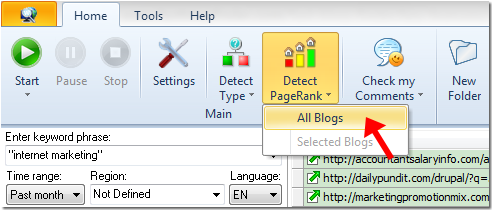 ---
It pre-fills the comment form using the profile you choose
Just create multiple profiles with different names, email addresses, links and signatures for different niches and choose the necessary profile from the AutoFill menu when you submit a comment.

---
You can use Article Builder to get tips for your comments NEW
G-Lock Blog Finder is intetrgated with Article Builder, rich database of quality articles and tips built around the topics and keywords that you give it. You can use these tips as the basis for your comments.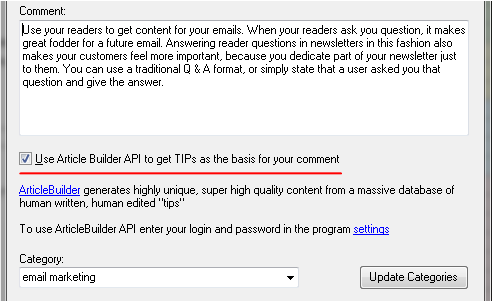 ---
It checks if your comment is approved or not
A "must-have" feature that saves you a ton of time. Forget about manually checking each post to see whether your comment is approved or not. Just click on "Check my Comments" option on the toolbar and select the blogs (all or selected) to check for your approved comments.

If your comment is approved and posted, you'll see either a green or red icon in the Approved field for the blog.
A green icon means that your comment is approved and has a DoFollow link inside. A red icon means the comment is posted with a NoFollow link inside.
And the Status bar will show you the total of approved comments.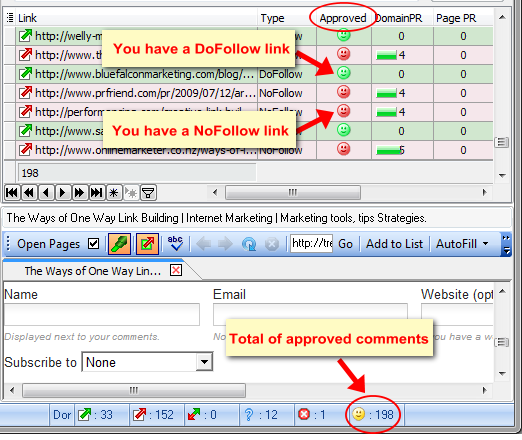 Note: if you have more than one comment on the page and the links in the comments differ by type, the program will take the first link it finds and put the respective icon in the Approved column based on the first link type. For example, if the first link the program finds is DoFollow, you'll see a green icon in the Approved column.
---
You can load your own blogs into the program (available in the Gold edition only)
If you have a list of your own blogs in a .txt or .csv file, you can use the "Load Blog List" option to load the blogs into G-Lock Blog Finder and post comments on them.

---
It detects the type of new blogs
After you load your blogs into G-Lock Blog Finder, the blogs appear as 'Unknown'. You can use the "Detect Type" option to determine the type of blogs and decide which blogs are worth to comment on and which are not.
G-Lock Blog Finder will classify the blogs by these types: DoFollow, NoFollow, MIXED, Unknown and HTTP error.
MIXED are blogs that have both DoFollow and NoFollow links in comments. Some blogs are set so that the commentator gets a DoFollow link after minimum 5 or 10 approved comments. So, there is a mix of DoFollow and NoFollow links in comments on the blog.

---
It can return only unique results in one search and between searches
If you do not want to get many pages from the same blog during the search, be sure to check the "Skip duplicate domains" option in the program settings.
To get unique URL between several searches, check the "Skip duplicate posts between different search queries" option (available in the Gold edition only). If a post is already found in any list, this post won't be displayed within the search results in a new list.
If you don't want to spend time for filling in the login/register form on the blog, you can exclude such blogs from the search results using the "Skip blogs where you must login or register to post a comment" option (available in the Gold edition only).

---
You can balance the search depth and speed for maximum performance
You can indicate how many pages from the search engine G-Lock Blog Finder should check for blogs and how many blogs the program should process (determine type and PageRank) at a time.
---
You can submit the pages with your comments to some of today's hottest social media sites
You can submit and hopefully get "eyeball" traffic to your comments from sites such as Digg, Del.icio.us, Reddit, StumbleUpon, Technorati, and many others.

---
You can use the vertical layout on a wide-screen monitor NEW
If you have a wide-screen monitor, you can switch to the vertical layout in the program and have more space for the Preview panel.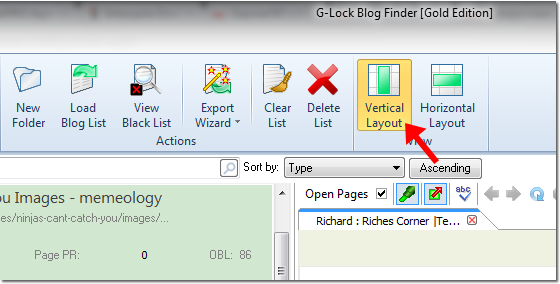 ---
You can add domains to the blacklist to exclude them from the search results (available in the Gold edition only)
If you find any low-quality blogs, you can add the domains to the blacklist and G-Lock Blog Finder will not show those blogs anymore. The domains are saved to a text file. You can open the text file (blacklist) and edit/delete the domains.

---
You can quickly save backup of your workplace and restore it with no data loss
If you are using G-Lock Blog Finder on more than one computer and would like to have synchronized lists on both computers, then this is a "must-have" option.