"The Quickest…Easiest… and Most Precious Way
to Get Massive Direct Traffic and Do-Follow Back Links
to ANY Site of Your Choice –
100% Guaranteed

!"

Introducing G-Lock Blog Finder – it's the most complete software solution guaranteed to locate the blogs you want, in any niche, fast. It helps SEO firms and individuals compile a list of blogs you can leave comments on and build a ton of backlinks instantly!
You cannot create a wonderful site and pray that visitors (and earnings) flow like water. How will people know about your site? The answer is quite simple:
You need links from themed [aka niche-related] websites!
A related link is worth more weight than links coming from a non-related site. There are several ways to create backlinks to your website: social bookmarking, pay per click, adding the website URL to web directories, submitting articles to article directories.
Another FREE way to get backlinks is commenting on blogs and including the URL of your site. All you need to do is to leave a comment on related blogs and include some anchored text linking back to your site. The other advantage is that some of the pages that you comment on have high PageRank!
With that said, we've come up with G-Lock Blog Finder, amazing piece of software which enables you to search and identify the blogs according to the keyword you enter with just a few mouse clicks.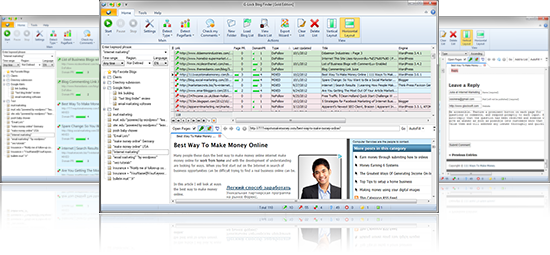 Here is what this 7-year SEO consultant says about our software…

I've been working as a self-employed online marketing and SEO consultant in Vienna for more than seven years. During this time, I've tried a lot of SEO software, but no other program delivers such enormous value for money as Blog Finder does: during the last couple of months, it saved me tons of time and what's even more important: this is only SEO software I know which works great if you have to promote pages in different languages.
— Ritchie Pettauer
blog.datenschmutz.net
Read what other users say about Fast Blog Finder here
There's no better way to find themed blogs and submit comments to them with our little tool. G-Lock  Blog Finder returns blogs on WordPress, Drupal, Nucleus, and B2evolution platforms.
When you start using G-Lock Blog Finder, you'll get high ranking websites linking back to your websites quicker and easier than before – without spending a single dime on advertising or promotion!
Watch this video to learn about the new features added in the latest version of G-Lock Blog Finder and how you can use them to your advantage.
Here are just a few of the cool things you can do with our backlink building software once you put your hands on it:
get the most relevant blogs for your keywords by limiting the program to the top 10, 20 or 50 results from the search engine — this means you can dramatically increase search engines and targeted human traffic to your web site after your comment is approved
post comments on the blogs directly from the program — big time saver!
determine the blog type [DoFollow, NoFollow, MIXED] — you get more link juice by posting comments on DoFollow blogs. We found through extensive research and testing that none of our competitors offer the same accuracy on determining DoFollow blogs as G-Lock Blog Find does. G-Lock Blog Finder determines DoFollow blogs with 99% accuracy because it analyzes links in the comment area to determine the blog type unlike other similar tools which checks all the links on the page.
determine the domain PageRank and page PageRank of found blogs — you can post comments on blogs with a higher PR to get more precious links and boost your natural search engine rankings
auto-fill the comment form using the desired user profile — no need to manually type your name, website URL and email! Just select the profile from the menu to pre-fill the form.
get tips from Article Builder and use them as the basis for your comments — you save your time for comment writing!
check blogs for approved comments — within seconds you will know whether your comment is approved or not!
skip duplicate posts between search queries — you avoid posting the comment for the same post twice or more times which means you don't act as a blog spammer in the eyes of the blog owner and have more chances to get your comment approved
skip duplicate domains — you get only unique results during one search.
skip posts where you must login or register to submit a comment — great time-saver if you don't want to create an account on the blog
load your own lists of blogs — if you obtained blogs somewhere outside of the program, you can load them into G-Lock Blog Finder, determine their types and comment on best blogs.
use your custom footprints for search — you don't limit yourself to blogs only! Using your custom footprints you can find ANY sites on ANY platform and use any backlinking opportunity you can think of.
submit the pages with your comments to social media sites — for extra traffic!
add domains to the blacklist — you automatically filter junk blogs and exclude them from search results
Follow these simple steps to build backlinks with G-Lock Blog Finder, quicker and easier than before:
type the keywords or a keyword phrase that you want to find blogs for and click "Start".
when the search is complete, click on an URL. The page opens directly in G-Lock Blog Finder preview panel.
read the post,  write your comment and click "Submit".
open the next blog and submit the next comment, etc.
To save your time, you can open multiple pages in different tabs. Hold down CTRL on the keyboard and click on the URLs. When you finished writing the comment on the first post, the next one is already loaded and waiting for you.
Use this tool without "tricking" the blog owners!
G-Lock Blog Finder is 100% Spam-free, search engine friendly blog commenting software. It does not make automated comments on blogs and we believe such tools should be never sold or promoted.
Because most blog owners moderate the comments to prevent SPAM we suggest you avoid personal or affiliate links in your blog commenting activities. Your comment will end up being deleted. Leave a meaningful comment only after reading the blog post.
What does "nofollow" tag mean and why should you care?
Likewise email spam, blog spamming became a serious problem. To protect from blog spamming, many webmasters implement a "nofollow" link tag. It is supposed to provide webmasters with the opportunity to add a link to their website without leaking PageRank to the page they are linking to. So, even though you can enter your website URL when you leave comments, it won't be considered as a backlink.
But it doesn't mean at all that you should not post a comment on a blog with a "nofollow" tag. Although such a blog page doesn't leak you PR, you can still benefit from gaining a lot more traffic. A "nofollow" tag doesn't prevent search engine spiders from visiting your link and the blog readers can also follow your link if they find your comment useful.